MINI PANCAKES WITH CHOCOLATE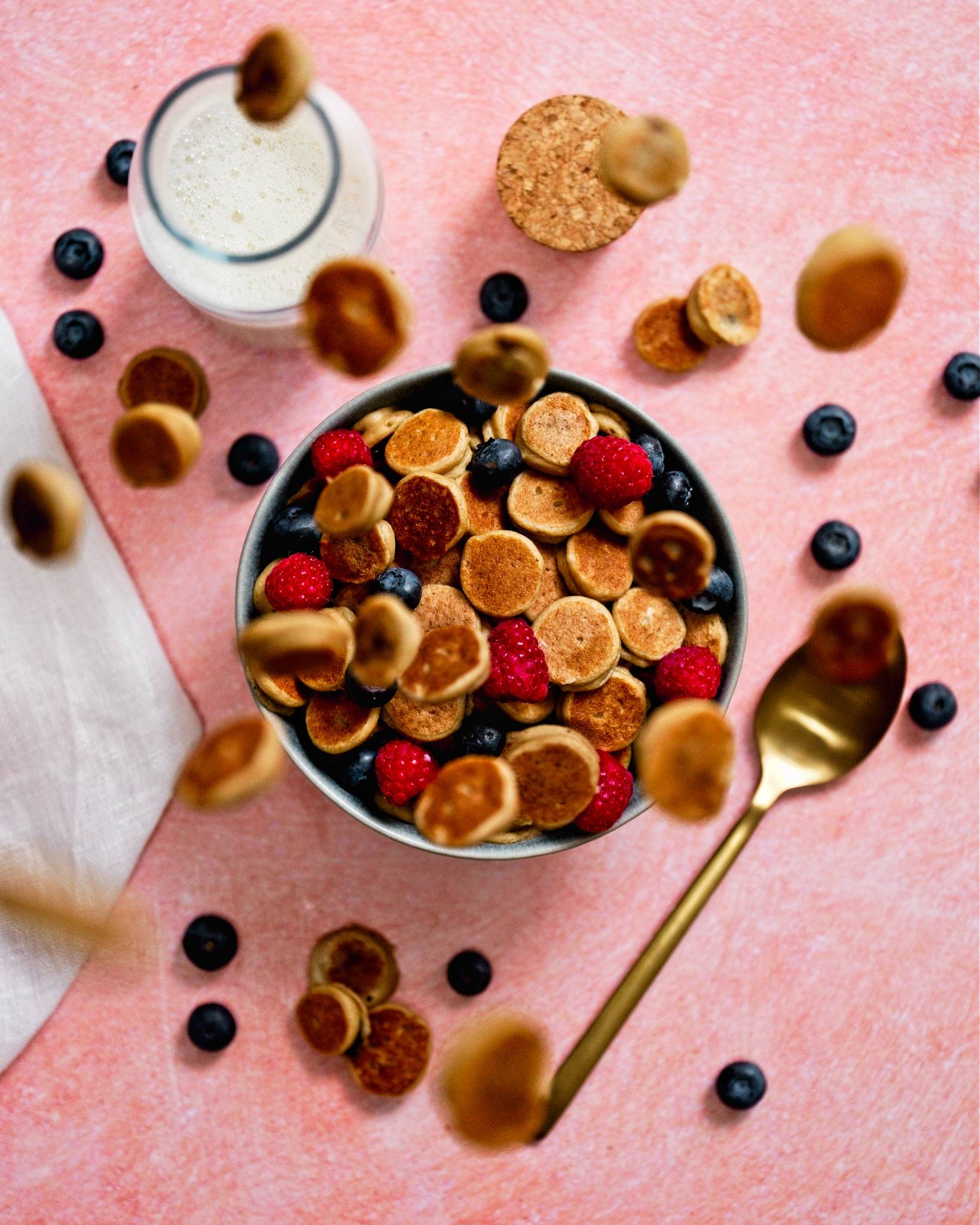 We do not want to hide that it is quite some work making these tiny, three layered pancakes. However, just as we are, loving the challenge, we really had to give them a filling as well...
The ingredients are all clean, healthy, and gluten-free (if you use gluten-free oats). The chocolate will melt inside the mini pancakes and make you enjoy every bite! Eat them as a snack or actually in your breakfast bowl with some plant milk and fresh fruit like we did.
It is delicious and you don't feel terrible eating them, they are actually healthy! We found out that they are even loved by kids, which makes it a pretty awesome snack.
The dough should be smooth and liquid and not too thick, easy to pour into the hot pan. It should not be runny, but still have some consistency so that, when pouring, the mixture does not spread but actually stays in a round pancake shape.
You can use the same recipe to make normal shaped pancakes and just use a whole handful of chocolate nibs for each pancake.
We found this mini version very cute and it is for sure a very nice surprise to wake up to a breakfast bowl of freshly made mini pancakes.
They should be eaten right away to enjoy the hot, melted chocolate inside. But even if they cool down a little, they will still be a great snack just like this! Enjoy =)
- 2 bananas
- 100 g oats
- 200 ml plant milk
- 2 tbsp peanut butter
- 1 chocolate nib per pancake
- plant milk
- plant yogurt
- fresh fruit
1. In a blender mix all the ingredients besides the chocolate nibs. The mixture should be smooth and liquid but not runny
2. Heat up a pan on medium heat
3. If you do not have a piping bag, use an old plastic bag, fill in the dough and cut a small hole in one corner
4. Now squeeze some circles for each pancake in the pan and decorate it with one chocolate nib per pancake
5. Add another small layer of dough on the melting chocolate and turn the pancakes around once they don't stuck on the pan anymore
6. Repeat until dough is empty.