VEGAN EMPANADAS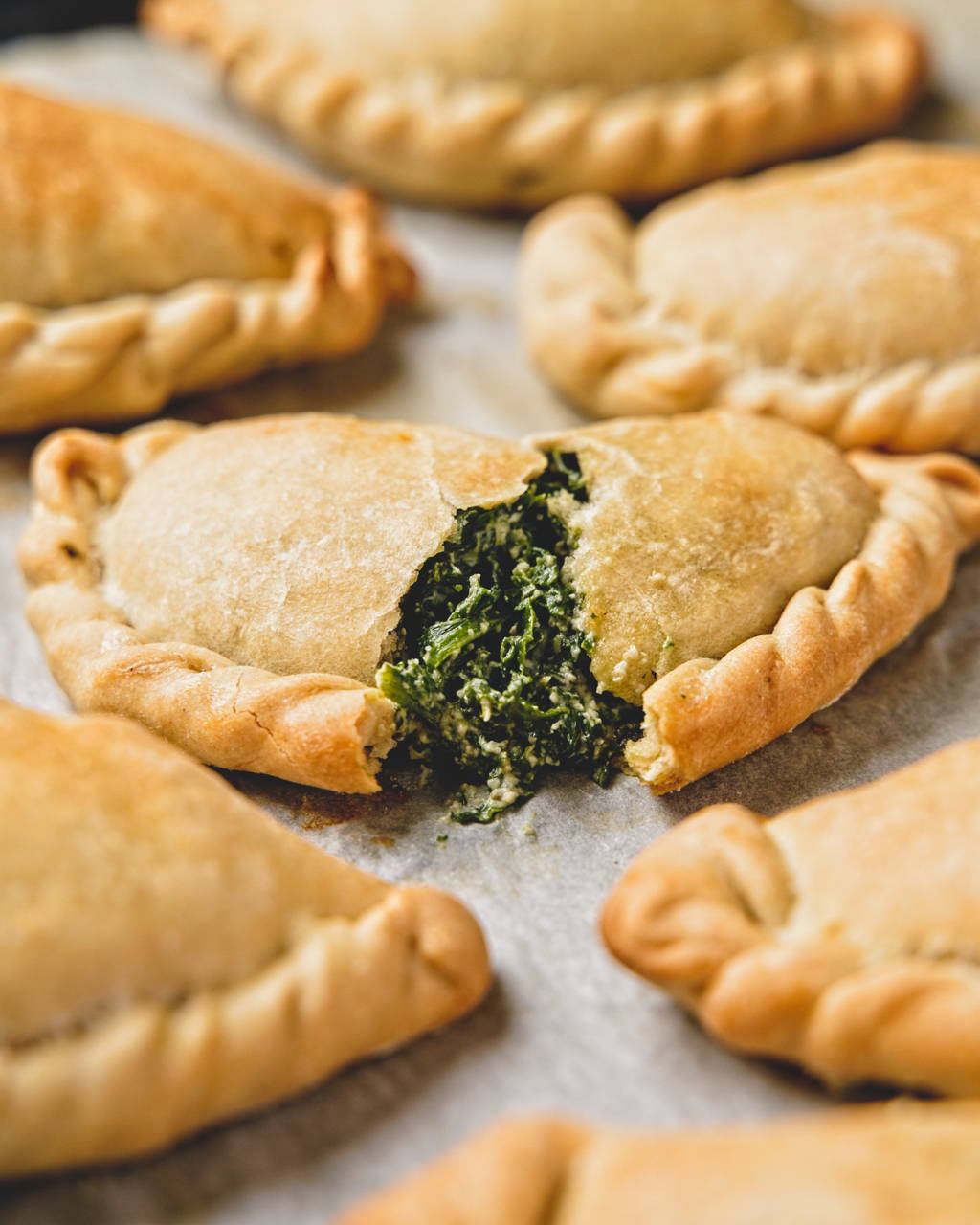 We love empanadas and were thrilled to find out that it is actually not too difficult after all to make vegan ones! You need to be a little patient with finding the right way to fold them and to make them look pretty, but they will for sure taste even in a freestyle shape! Manel is a perfectionist and would not go to sleep before having fold the perfect empanada, but that is up to you.

You just need to do it a couple of times and you will find the right way naturally.
Also the way we made them may not be the original one but definitely a rather healthy version!
We like to fill them up with whatever you have at home. Usually, we like to make an easy scrambled tofu as a filling, a cheesy - spinach cream or we fry some onion, red and green bell peppers with spices. It should be a little saucy but not liquid.
There is no right or wrong, we even made Samosas of the same dough once and filled them up with mashed potato and pea curry. Important is to load them sufficiently, so that you will have a dense empanada - package. Oh dear...they are SO good!
We often cannot eat them all the same day, but also do not want to make less, as it is quite some work. They are absolutely fabulous the day after! Either cold as a snack to take away, or warmed up for 5 minutes in the oven.
- 420 g Wheat flour
- 4 tbsp olive oil
- 230-240 ml warm water
- 1/2 tbsp salt
Painting mixture:
- 2 tbsp olive oil
- 2 tbsp plant milk
- spinach with cashew cream cheese
- scrambled tofu with veggies
1. Sieve the flour in a bowl and mix with salt and oil
2. Add water and knead for 5 minutes until soft and elastic (add more flour if it is too sticky)
3. Preheat the oven to 200°C
4. Cover and let rest for 20 minutes
5. Roll dough to 2 mm thickness on a floured surface
6. Cut into circles with a mold (15cm)
7. Place a big spoon of filling onto each circle and close the empanada
8. Paint with mixture
9. Bake for 25-30 minutes until golden brown