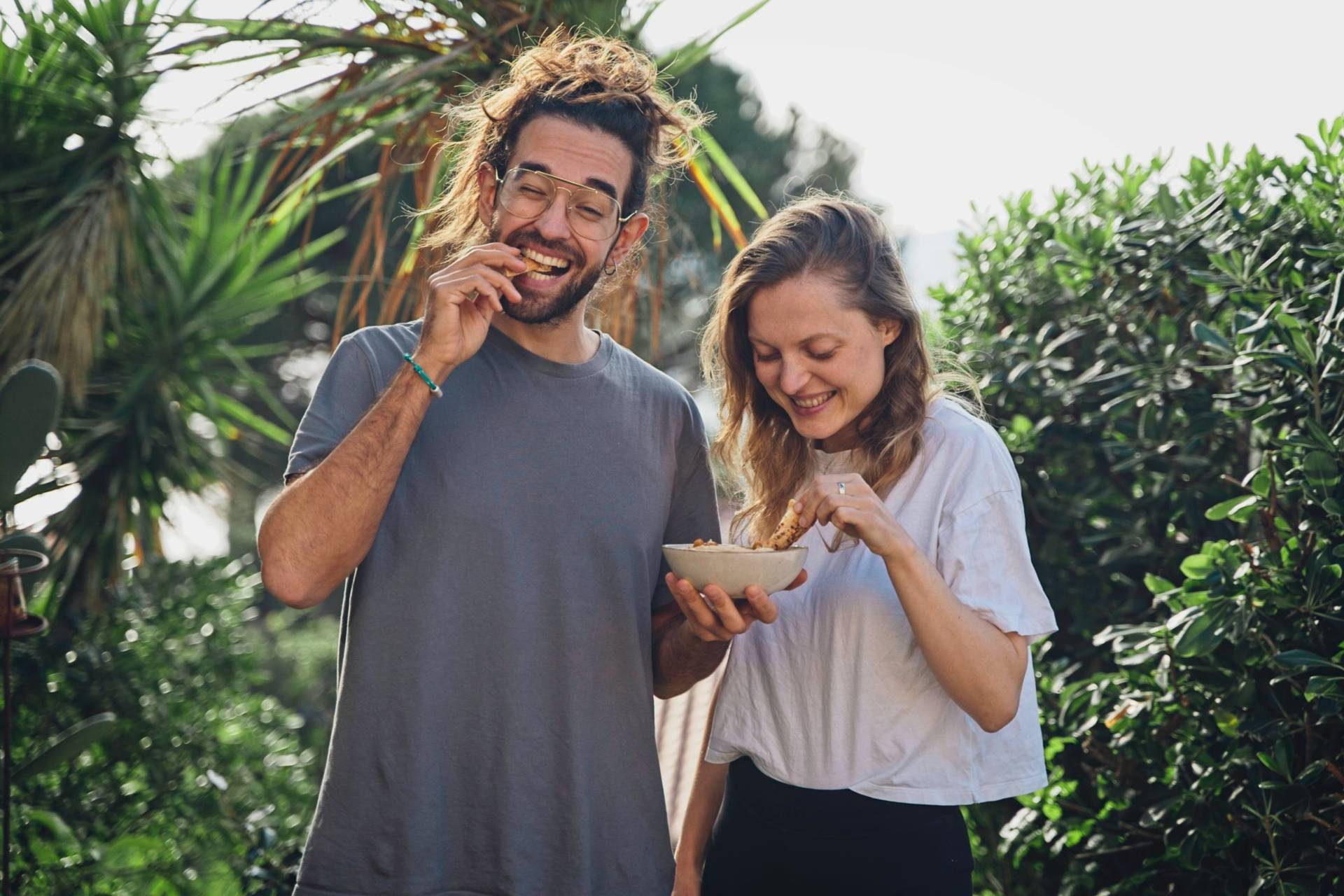 Hey, we are Manel and Hanna
...and we created this blog together. We spend a lot of our lifetime in the kitchen cooking, baking, and creating! We hope to inspire you to be more confident in the kitchen, because making food from scratch can be really fun. We are happy to share our easy, plant-based recipes here with you!
We both come from different cultures. Born in Barcelona, Manel grew up in his dad's restaurant. From an early age, he was taught how to choose the best fruit and veggies, and he would venture from market to market to find the best ingredients. Serving food for many years taught him how to present dishes and make the food look beautiful as well as delicious.
Hanna was born in Heidelberg. After school, she left Germany to travel the world and never came back. What she missed the most during her travels was quality German bread and, above all, flavorful yellow potatoes. She had no idea how privileged she had been all her childhood.
Luckily, our paths crossed in 2017 when we met in Barcelona both working at the same company. Once Hannah realized she couldn't sit still anymore and needed to move on, we quit everything, accepted remote jobs, and traveled Asia and then Europe with a camper. We lived on the road and worked online. We both loved to discovering as much new food as we could eat. We took cooking Classes in Thailand, ate street food all around Indonesia, and fell in love with falafel in Berlin, Salmorejo in Cordoba, just to name a few.
Today we are still travelers. However, now we occupy 4 seats in the car instead of 2 (yes, our dog needs its own seat). We love to change locations every couple of months along with our dog Mali and our son Nalu. We end up discovering traditional dishes from wherever we go. We challenge ourselves to turn these recipes into 100% plant-based meals while trying hard to imitate the original taste.
While Hanna has been a healthy food-loving vegetarian all her life (her mum says that she even spit out meat as a baby), Manel had always been a full-time meat lover. Until summer 2017 when we watched our first documentary together. Instead of a slow process, it was actually an over-night change. From one day to the next, our diet became fully plant-based. We stayed awake late at night to watch, read, and learn about the craziness that is happening with our planet, our animals, and ourselves, and we became increasingly more aware of the benefits of a plant-based life.
We immediately began to feel great both physically and mentally, and we now know that we could not have made a better decision. The change was also noticed by our colleagues, friends, and family members, and they were impressed by the meals that we made. We became much more creative, our food looked more colorful, and a new world opened up. Manel was especially impressed, admitting that he would not have learned about many of the delicious ingredients had he not changed to a vegan diet. Such as…chickpeas! Hummus became one of our main foods, we would make a huge batch on the weekend and eat it throughout the week. When we were invited to a friends house we for sure had to bring OUR hummus.
We are picky with taste, and so far, that has served us well. The world of plants is huge and the possibilities are endless. Our passion is exploring this world and sharing our outcomes (and failures) with you!